Carnival of Space No. 381
Welcome to the latest edition of the amazing Carnival of Space. Each week the Carnival brings you a collection of articles about all things space. Tune in each week to learn the latest happenings in astronomy, space science and space flight. Are you ready for some science? Let's go!
This weeks Carnival starts with this article from IO9 about the crew swap on the ISS: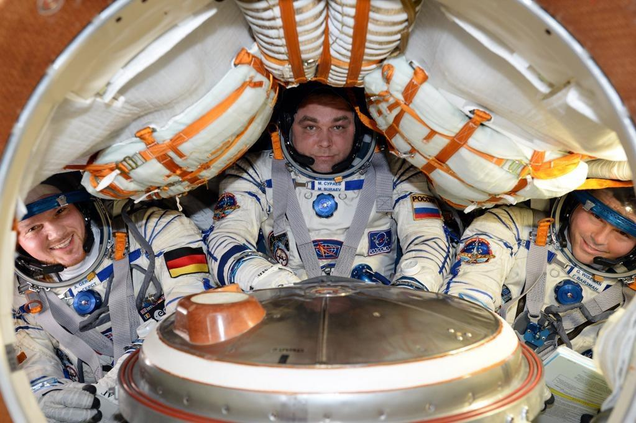 It's time for a crew swap on the International Space Station, with astronauts Reid Wiseman, Alexander Gerst, and Max Suraev returning home on an almost-perfect landing.
Next up, Universe Today has a pair of articles about planets. First a look at one in our solar system, followed by a look at the instruments we are building to find more:
Jupiter's Great Red Spot Gets Its Color From Sunlight, Study Suggests
NASA's Next Exoplanet Hunter Moves Into Development
Continuing with the look at deep space, we move to the Chandra X-Ray Telescope's page and their articles looking at Neutrinos and possible sources for them:
A Lighthouse at the Heart of the Milky Way: Hunting Cosmic Neutrinos
NASA X-ray Telescopes Find Black Hole May Be a Neutrino Factory
CosmoQuest also looks deep into the heavens by examining stars that apparently are not bound in a galaxy:
Cosmic Castaways' Orphaned Stars Lighting Up the Universe in New Numbers
Returning to our Solar system, we find a great article over at the Meridian Journal that looks deeper into the Cassini mission's study of Titan and its oceans:
Cassini plumbs the depths and new mysteries of Titan's seas
Speaking of our planets, the Lunar and Planetary Institute has a few images up on their flickr account. These are NASA press release images along with captions:
10 NASA press release images with captions. Images of Mars, Mercury, the Moon, Saturn's moons, and the Earth.
Everyday Spacer has a couple of great posts. Get your free printables and find out just how old you would be on other planets:
Just for fun this week, Everyday Spacer offers Free Printables in one post
And we write about our new app in another: When is Your Birthday? On Any Other Planet, it Would be Different!
What happens when we see quasars start lining up? The Space Writer take a look at this celestial event
Quasars Aligning: It's not some New Age Stunt!
The space section over at About.com has a great story on Comet 67 and the discoveries being made there:
A look at discoveries at Comet 67 by Carolyn Collins Petersen, Space/Astronomy Expert at About.com
We cap off the Carnival with a pair of news items from Next Big Future. They take a look at synthetic biology and the rise of companies looking at incredible things such as life extension companies.
Synthetic biology can be very useful to harness available volatiles and waste resources on manned missions to explore the Moon and Mars…Because of the benign assumptions involved, the results provide a glimpse of the intriguing potential of 'space synthetic biology', and help focus related efforts for immediate, near-term impact.

"If the plans of Google and related companies and projects like Calico and the GoogleX and Solve for X projects, come to fruition then the influence of Great Companies will be far more important for shaping the future. Calico could be one of the companies that enables radical life extension…"
The amount of information packed into the articles this week has been amazing. If you missed last week's episode, you can find it over at Links Through Space. Tune in next week for the next exciting Carnival hosted over at Everyday Spacer. I know those of us at Photos To Space will be tuning in. Until next time…
Dream